This is the second in a series of articles examining the moves being made by cable operators in the wireless market with CBRS.
Diversification is characterising the cable market at present. Underpinned by the desire to converge existing fixed and up-and-coming wireless assets, it is a strategy founded on the pursuit of revenue and customer experience enhancement. But, even with fat wallets, as newcomers, the challenge is a mammoth one.
The CBRS band has emerged as a solution to surmount this challenge, breaking down barriers to entry by providing cost-effective access to prime mid-band real estate. Upon being armed with the spectrum, cable operators can begin to deploy coverage and capacity at targeted locations.
Often described as enabling the "wireless extension of cable infrastructure", deployments in the CBRS band will extend broadband access to underserved premises with favourable economics, as well as reducing wholesale mobile virtual network operator (MVNO) costs by pushing a larger proportion of data traffic onto cable-owned infrastructure.
Examining Comcast and Charter's Wireless Foray. 
Charter Vs Xfinity
Comcast's Xfinity Mobile and Charter's Spectrum Mobile are the two most prolific cable-owned MVNOs in the US market today. Both can be considered success stories, having amassed an impressive 2.3 and 1.4 million subscribers respectively since their commercial launches in 2017 and 2018.
This momentum continued in the first quarter of 2020, as the two cable-owned MVNOs collectively added over 500,000 subscribers. In the same period, by contrast, net subscriber additions were relatively stagnant across AT&T and Verizon (with minimal growth and minimal contraction respectively).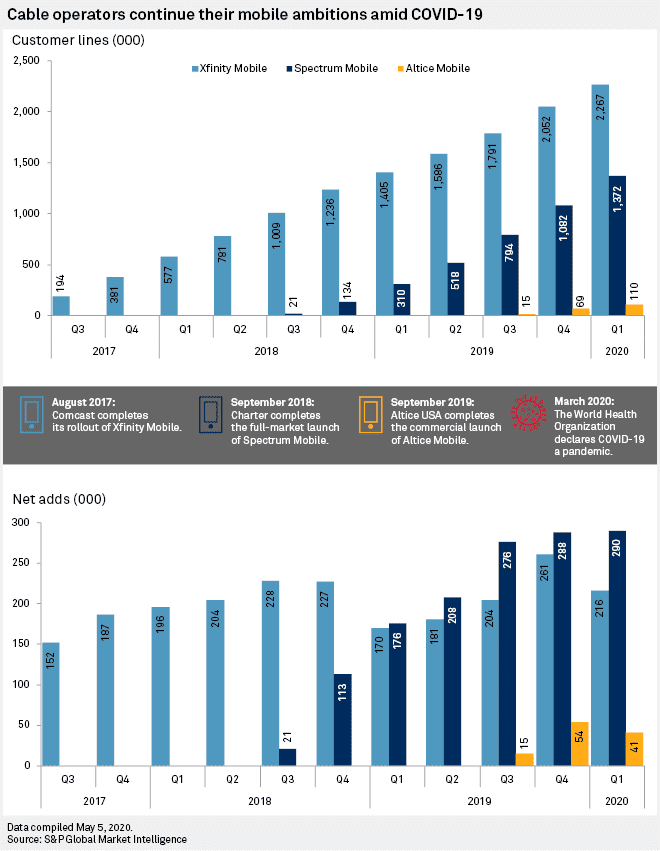 As the host mobile operator, a large proportion of Verizon's gross subscriber additions in recent quarters can be attributed to Xfinity and Spectrum Mobile. Each of the MVNOs grew out of an agreement reached with Verizon in 2011, which revolved around the sale of Comcast and Charter's AWS spectrum assets for $3.6 billion.
Based on this agreement, it is broadly understood that the cable operators pay Verizon for wholesale access to its network based on the volume of data consumed by their subscribers. In 2019, for example, analyst firm Cowen estimated that Charter forked out $3.09/GB, a price that is said to decline 25% annually.
This wholesale agreement means that operational expenses across the MVNOs have been growing rapidly as total data volumes balloon due to subscriber additions and increasing per-subscriber data usage (thanks to supply-side factors such as unlimited data tariffs and enhanced 4G LTE speeds, in addition to demand-side factors such as on-demand video streaming).
Unsurprisingly, the ascent of operational expenses prompted the cable operators to investigate and pursue strategies that could achieve cost efficiencies. These strategies manifested themselves in efforts to minimise the volume of data traffic that transits Verizon's network through offloading to cable-owned assets.
Up until now, Wi-Fi has been a cornerstone of the offloading strategy. Comcast, in particular, invested heavily to deploy branded Wi-Fi hotspots, named "xfinitywifi", and to implement dual SSIDs on CPE. In fact, research from Tutela illustrated that the operator's branded Wi-Fi hotspots carried over 6.5% of data traffic generated by its MVNO subscribers last year (compared to a negligible percentage with Verizon's own subscriber base).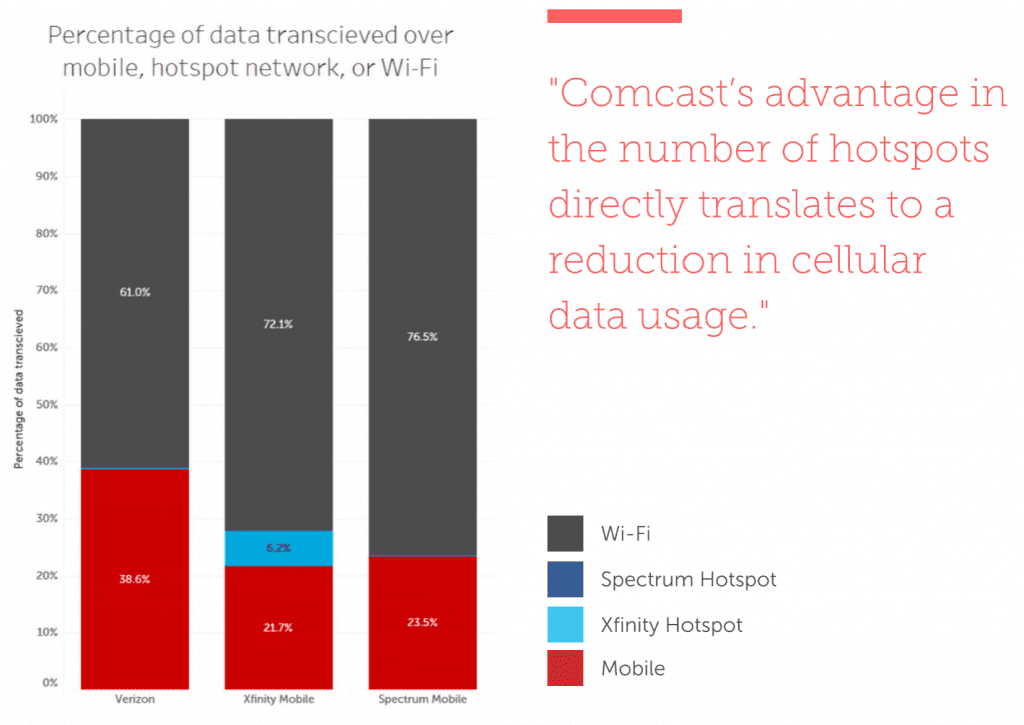 The Big Transition: Wi-Fi-first to small cell-first.
Despite the relative success of this Wi-Fi offloading strategy, it has become increasingly obvious that the cable operators need to complement it by developing another access layer: their own localised wireless network in the CBRS band. After all, there are commercial limitations to the scalability of Wi-Fi beyond dense indoor and outdoor environments.
Comcast and Charter are eyeing the CBRS band, and both appear in the FCC's filings for the upcoming Priority Access License (PAL) auction. For them, it is an opportunity to become infrastructure-based MVNOs and to follow in the footsteps of cable rival Altice, who has already deployed thousands of small cells atop its cable network in Long Island.
Altice's infrastructure-based MVNO leverages Sprint's 4G LTE network, but it provisions its own billing, customer care, SIM and voice messaging services. It also maintains an MVNO relationship with AT&T for roaming and with T-Mobile for its 5G network. The operator's small cell deployment has enabled it to reduce wholesale access costs with Sprint by offloading data traffic.
Importantly, Altice's wireless investment in Long Island demonstrates the fact that cable operators are particularly well-suited to exploiting small cells for targeted coverage and capacity enhancement. Within their cable footprints, for example, Comcast and Charter have access to the trifecta of backhaul, power and rights-of-way.
The development of capabilities such as dual-SIM and dual-subscription will be instrumental in enabling small cell offloading to take place. This will ensure that one SIM in a smartphone can operate on the cable-owned small cell network, and a second SIM can seamlessly connect to Verizon's macro network as needed.
Expanding Broadband Access with Fixed Wireless Access.
Beyond transitioning from a "Wi-Fi-first" to a "small-cell first" model in order to reduce operational costs in the long run, the cable operators also have budding ambitions to expand broadband access with the CBRS band. This is most evident with Charter, who has repeatedly expressed a desire to provide fixed wireless access (FWA) broadband outside of its cable footprint.
The cable operator recently outlined plans to provide a 25/3 Mbps broadband service in the CBRS band, as well as offering lower speed tiers for more expansive coverage. This is an attractive proposition for Charter because it enables the operator to expand its addressable broadband base in areas that would have traditionally been deemed economically unviable.
In order to assess the viability of CBRS for broadband, it has engaged in "multiple proofs-of-concepts" in markets with "difficult terrain", including a commercial trial in Davidson County, North Carolina. The company explained recently that it was "pleased with the initial results" of these trials.
Conclusion: The CBRS band is toppling barriers to entry.
The stars are aligned for cable operators to diversify and develop infrastructure-based MVNOs in the CBRS band. It is an opportunity to drive down operational expenses in the long run through offloading, to augment the network experience with enhanced control and to generate new revenue streams by providing new services such as fixed wireless access.
In the upcoming PAL auction, it is anticipated that cable operators will be front runners, competing alongside mobile operators, private enterprises and, even, utilities. There will be a presence of established MVNOs such as Comcast and Charter, as well as newcomers including Cox.
It is easy to see why there is such a buzz. As a representative from Charter aptly put it, the CBRS band is "really a hand-in-glove fit" for cable operators.