The recent acceleration of 5G rollout activity in the US has highlighted the criticality of mid-band spectrum in delivering enhanced wireless performance at scale. It is recognized as the evolutionary stepping stone between the extremes of low and high-band (or mmWave) frequencies, exhibiting both favorable capacity and propagation characteristics.   
Relative to other Asian and European markets, however, the US has long been a laggard in releasing large swathes of mid-band spectrum for next-generation wireless carrier use. To date, only one of the nation's three major carriers, T-Mobile, has been able to leverage and deploy mid-band 5G in the 2.5GHz band. But even this feat is only thanks to its inheritance from the merger with Sprint.
Up until the conclusion of the CBRS auction at the end of last summer, Verizon's mid-band holdings were extremely limited – and they remain so. The same is true with AT&T and, consequently, the hybrid approach of widespread low-band but very limited mmWave coverage has left holes in suburban and urban areas, where additional capacity is required at a commercially viable cost.
The Federal Communications Commission (FCC) identified this lack of mid-band assets some time ago and published a Notice of Proposed Rulemaking in 2018 to make spectrum in the 3.7-4.2GHz band available for "next-generation terrestrial fixed and mobile broadband services". Fast forward to the present day and bidding will commence December 8 in the C-Band Auction (107).
Examining the path to Auction 107
The C-Band spans a large breadth of mid-band spectrum between 4-8GHz. Historically, the incumbent users of this spectrum have been satellite operators such as Intelsat and Eutelsat. Satellite communication in the band enabled the provision of full-time television networks and raw satellite feeds between transponders and receiving antennas or satellite dishes.
At the end of 2019, the FCC announced that an auction for spectrum in the band was planned for this year. It wanted to release the lower 300MHz portion (in the 3.7-4.2GHz range) for wireless carrier use, selling 280Mhz of spectrum and reserving the remaining 20MHz for further needs. Note that the relative scale of this auction is significant – more than four times larger than the CBRS auction in terms of the quantity of spectrum on offer.
But, in order to continue to cater to the spectrum needs of the incumbent satellite operators, the FCC devised an ambitious transition plan that will move their services to the upper 200MHz of the band, thereby maintaining the same level of service to the over one hundred million households that fall within their respective coverage areas.
It was envisioned that this exodus from the band could be fast-tracked, which will entail the upgrading of both ground and satellite equipment, through a framework of accelerated payments in which the costs burdened upon the satellite operators will be compensated by the winnings from bidders in the auction (provided a specific transition schedule is adhered to).
At the time, FCC Chairman Ajit Pai stated "It is in the public interest to make available frequency in the C-band as quickly as possible as part of a national priority to promote American leadership in 5G. To get the job done quickly, we need to align the private interest of satellite companies with the public interest".
For the purpose of the auction, a two-phase process is being leveraged, in which participants will first bid on generic spectrum blocks in successive "clock bidding" rounds. Upon conclusion, this will then be followed by bids for frequency-specific assignments that will enable participants to secure continuous blocks of spectrum across Partial Economic Areas (PEAs).
A Necessity for Big Red and AT&T; The Cherry on top for Magenta
As mentioned from the outset, the three major wireless carriers are expected to be the heavy hitters in this auction. Both Verizon and, in particular, AT&T need to participate in order to remain competitive in the market, and T-Mobile is also likely to make an appearance despite its current enviable spectrum portfolio.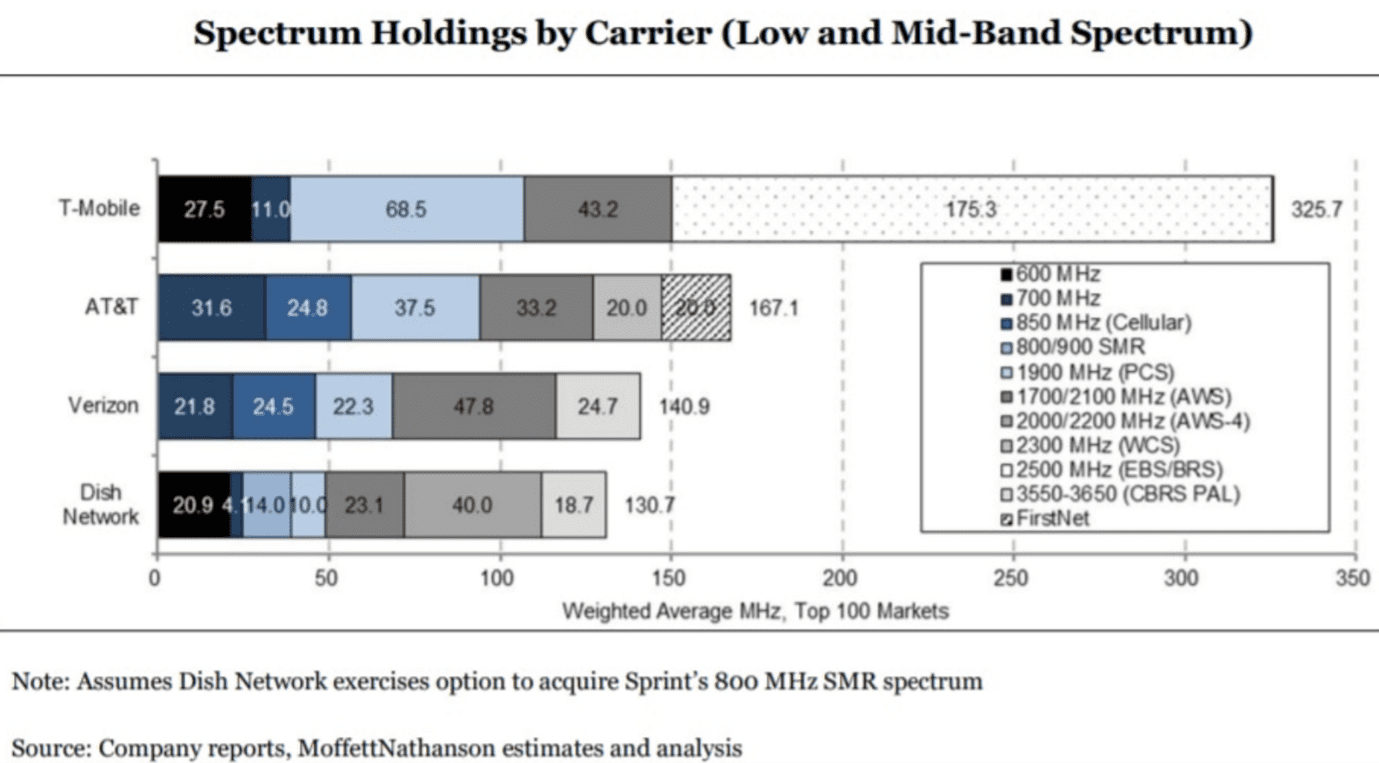 In Big Red's case, the need to obtain more mid-band spectrum is patently obvious – despite boasting the nation's largest subscriber base, it has the smallest share of spectrum in low and mid-bands. As a consequence, until recently, the operator's 5G deployments were limited to the 28 and 39GHz mmWave bands ("Ultra Wideband"), where it has a treasure trove of spectrum but succumbs to the inherent signal attenuation challenges.
Upon the debut of Apple's 5G-enabled iPhone 12 series in October, the carrier launched what it called "5G Nationwide" with coverage spanning 200 million Americans. However, it was forced to resort to leveraging dynamic spectrum sharing (DSS) technology to achieve this, which essentially repurposes existing 4G LTE spectrum with the new 5G NR air interface and unlocks only minimal performance enhancement.
In the CBRS auction, Verizon emerged as the biggest bidder, securing 557 PALs at a cost of $1.9 billion. While it only secured an average of 34MHz of CBRS spectrum in each of the regions that it purchased spectrum, it is anticipated that it will secure 100MHz or more across major markets in the C-Band auction at a cost of around $12 billion in mid-range estimates from Morgan Stanley Research.
Similar to Verizon, AT&T's limited low and mid-band assets make it such that participation in this auction is critical to underpin its future network evolution. It did not bid in the CBRS auction, and has instead been deploying 5G across the 850MHz, 24 and 39GHz bands. Thanks to its WCS/AWS-3 holdings, it does have more mid-band spectrum than Verizon in most markets.
However, in spite of being the largest US telecoms operator in terms of revenue, analysts have expressed concern that AT&T's role in the auction could be inhibited by financial constraints. There has been uncertainty, for example, as to whether the operator's balance sheet will provide it with the necessary borrowing capacity to secure a sufficiently-large block of spectrum.
T-Mobile's participation, conversely, is not one of similar urgency. It already wields more sub-6GHz spectrum than both of its competitors combined, and so any additional winnings in this auction will only serve to copper-fasten its position. While the operator is expected to engage in Phase 2 of the auction at the end of 2023, its participation in Phase 1 will likely be strategically motivated to ensure its competitors don't receive an easy bargain.
Where Dish Network and Cable Operators Stand
Dish is also likely to make a showing in the auction, appearing on the Commission's preliminary list (as Little Bear Wireless). This follows its significant splurge on CBRS spectrum in Auction 105, in which it secured an almost nationwide 3.5GHz footprint at a cost of more than $912 million.
However, demand may be tempered by the fact that the budding operator needs to conserve its financial capacity in order to finance the costly greenfield network buildout that is ongoing. While the pace of this buildout has been slower than initially anticipated, it successfully lit up its first 5G site at the beginning of November.
Likewise, Charter and Comcast are expected to partake (bidding together as C&C Wireless). This decision to bid as a joint venture is an astute one since cable operators rarely have geographically overlapping territories, meaning they are unlikely to compete with one another for geography-based spectrum licenses. Both Altice and Cox will join the aforementioned cable operators in the auction, each bidding independently.
Conclusion: Democratising the "Layer Cake" Strategy
After years of work to coordinate the transition of satellite services in the C-Band, Auction 107 represents a pivotal event that will shape the deployment of 5G networks in the US over the next decade. In making prime mid-band spectrum available to wireless carriers, cable operators and others, it enables the realisation of a "layer cake" rollout strategy for 5G across low, mid and high (or mmWave) bands.