Utility Network Solutions
Modernize and digitize your network. Consolidate multiple networks. Deliver multiple use cases.
AW3925
Two-port Omnidirectional Antenna
AW3822
Low-band, High Gain for Longer Distances
AW3874
Two bands, One antenna, Lower Costs
AW3711
33° Single Sector, Quad Port, High Capacity
AW3795
33° Dual Sector, Dual Ports, High Capacity, Fewer Antennas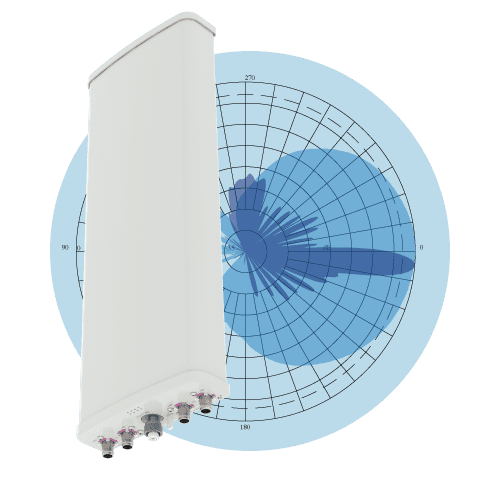 AW3161
Optimized Side Lobes, Less Interference
The Antennas You Need For Private LTE
Utilities are facing aging communications infrastructure at a time when technology is requiring greater capacity and reliability. Private LTE is the go-to technology for utilities to update AMI/AMR applications, improve remote monitoring capabilities and increase security. You get flexible, cost-effective capacity with complete control over your network. Alpha Wireless has the antennas you need and the experience to deliver top performance at the lowest total cost of ownership.
Brochure
Utility Antenna Solutions
Alpha Wireless designs antennas for utility private LTE networks. Our extensive portfolio includes dual-band and single-band antennas that are suitable for nearly any network configuration. The lead product in this family is our AW3874 dual-band panel antenna. It delivers high-performance 900 MHz and 3.5 GHz signals in one compact form factor.
The AW3874 Dual-Band Panel Antenna for Utility Network Modernization
The leading antenna in Alpha Wireless's utility network modernization lineup is the AW3874 dual-band panel antenna. It features Alpha's patent-pending frequency transparent dipole technology™ (FTDT) that makes it possible to deliver high-quality 900 MHz and 3.5 GHz signals with the same compact antenna.
Carrier-Grade Performance for Utility Private LTE Networks
Alpha Wireless designs a range of antennas that deliver reliable, secure, carrier-grade performance for private LTE utility networks. Along with it, we deliver the knowledge, experience and partnership to guide you safely into unfamiliar territory.
Newport Utilities Connect
Newport Utilities Connect is an end-to-end power, water, wastewater and broadband utility company in Cocke County Tennessee. They wanted to improve their fixed wireless and rural broadband delivery capabilities. Newport selected Alpha Wireless for our high-level expertise, the ability to solve their technical challenges and our extensive antenna portfolio.
Talk to Our Antenna Experts
We are here to answer any questions you may have about our products.
Get in touch and we'll respond as soon as possible.