This article is a synopsis of the key points highlighted during the Alpha Wireless "Simplify 5G deployments. Let's talk tri-sector antennas" webinar. An on-demand recording of the webinar is available here.
Mobile operators find themselves in an increasingly challenging operating environment. While revenue growth has plateaued, capital expenditure requirements are swelling as a combination of demand-side factors such as the proliferation of video streaming and supply-side factors such as unlimited data tariffs converge.
The extraordinary rate at which demand on network resources continues to grow necessitates greater quantities of spectrum in higher bands and increased site grid density. This process of massive densification is capital-intensive and lengthy, however, due to site acquisition costs, zoning restrictions and radically increased design complexity.
New base station form factors are needed to overcome these challenges and to provide in-fill coverage and capacity by complementing the existing macro layer. The tri-sector antenna is one such form factor, concealing high performance equipment within a discreet slimline monopole that conforms to its surroundings.
Traditional deployment strategies were focused on creating a "coverage layer"
Traditionally, mobile operators pursued an "outside-in" network design for providing coverage in locations such as towns and villages. In practice, this meant deploying a free-standing lattice or monopole structure on the peripherals of the area that the operator intended to serve.
These lattice and monopole-type structures were chosen because of their prominent height, which enabled a large coverage area (especially with low-band spectrum) and provided ample vertical space for the colocation of equipment including remote radio heads (RRHs) and panel antennas among multiple mobile operators.
In addition, these designs exhibited excellent wind loading capacity and a high level of structural rigidity to allow for effective signal propagation. Over time, as network requirements evolved, it was possible to add additional equipment, both on the structure itself and within the large ground-based equipment compounds for power and the baseband unit (BBU).
While mobile operators will continue to deploy new lattice and monopole structures, such deployments will be mainly limited to rural areas because it is becoming more prohibitive to do so in urban and suburban environments. In fact, the very attributes which make these structures appealing to mobile operators from a radio engineering perspective are the same ones that make them unappealing to municipalities and the general population.
Aesthetics and Visual Pollution: A Challenge for Traditional Structures
The visual pollution created by the deployment of lattice and monopole structures presents a perennial challenge for mobile operators. In failing to conform to other vertical elements in the landscape, protruding into the skyline and detracting from the scenery below, they often foster public opposition in the form of planning appeals and objections.
This proliferation of public opposition is most acute in areas that are particularly sensitive to visual pollution – think residential districts. The paradox, however, is that these locations are the ones that require significant network densification given the concentration of a large number of people in small geographic areas and indoor environments.

The Coronavirus pandemic, for example, has underlined the criticality of mobile network capacity in residential districts. As government-led lockdowns and stay-at-home orders swept across the world, the mobility of network users was reduced and voice and data traffic originating from homes increased markedly.
In order to overcome objections and deploy structures in locations such as residential districts, mobile operators are often forced to implement stealth solutions such as paint, reflective films or concealment designs in the form of faux trees and faux water tanks. Solutions such as these are unfavourable because they can add considerably to capital expenditure and time.
Fragmentation across Zoning Regimes: The Foremost Barrier to Deployment
For municipalities, the unfavourable aesthetics of lattice and monopole structures is illustrative of a daunting challenge that will only be exacerbated with network densification. By virtue of their role, they must perform a delicate balancing act to maximise the social and economic value enabled by telecoms infrastructure while also minimising visual pollution and urban clutter.
The latter aspect of the above is achieved through the implementation of planning and zoning regulations. At their most basic level, these regulations are designed to reduce contrast between additions to the landscape and the landscape itself. This philosophy mitigates the adverse effects of developments by ensuring they conform to their surroundings as much as possible.
However, the fact that the regulations are fragmented across municipalities, both nationally and internationally, makes it very difficult to engage in large-scale deployments of wireless infrastructure. While a proposed structure may be granted permission by one municipality, it could be refused by another – acceptance rates vary wildly.
Furthermore, it is also often the case that the zoning process can take several months before a final decision is made. If a site is refused permission, the operator is forced to revert to the drawing board and the clock effectively resets. Alternatively, if it is forced to accept a suite of conditions in order to gain approval, the commercial viability of the site could be jeopardised.
In the context of massive network densification, these delays are make or break in nature. Moving forward, there will be an increased need for municipalities to play a more proactive role in facilitating the deployment of wireless infrastructure, reducing administrative barriers to provide cost-effective access to assets such as street furniture and ducting (for fibre backhaul).
Other Densification Challenges: Strict EMF Regulations and Exhaustion of Space
In a small number of markets, there are very strict EMF radiation power limits that introduce significant hurdles as mid and high-band spectrum is deployed with 5G. In Switzerland, for example, these limits are one hundred times stricter than typical European limits in terms of watts per square metre.
As such, mobile operators are sometimes forced to restrict the transmit power of their base stations to a level that represents a small fraction of the full nominal power that the equipment is capable of providing. With the emergence of adaptive antenna arrays and dynamic beaming forming, the problem is only intensified.
This situation makes it extremely difficult to provide high quality indoor coverage with overlay macrocell deployments of bands such as 3.6 GHz. The need to densify is, therefore, amplified in order to compensate for the reduced coverage that each site with restricted transmit power can provide.
Separately, the exhaustion of space for lattice and monopole structures in dense urban and suburban environments is also a problem. Traditional alternatives such as rooftop installations are often not a perfect substitute, especially in residential districts where building height may not be at the level required to provide wide-area coverage.
Conclusion: The Tri-Sector Antenna is a complementary solution for in-fill coverage and capacity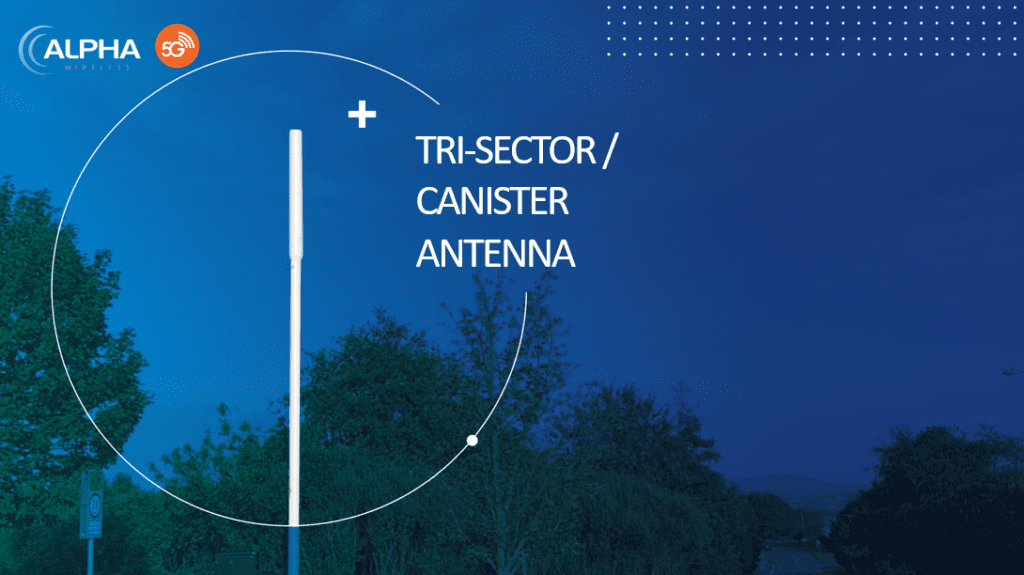 The nature of network design means that there is not a one-size-fits-all solution to overcome every problem. Rather, each solution is complementary and fulfills a different set of use cases. The tri-sector antenna is attractive because it addresses the various challenges detailed herein – visual pollution, lengthy zoning approval and difficult deployment economics.
With a low-profile form factor that mimics other vertical features in the landscape, the tri-sector antenna can be easily concealed and mounted on existing lamp posts, power poles and the walls of buildings. This visually "sympathetic" design is aided by the fact that equipment such as cables and feeders are housed internally within the structure.
Thanks to these favourable visual attributes, there is an enhanced prospect of an expedited zoning process for tri-sector solutions. The number of objections submitted may be much smaller relative to a lattice or monopole structure, and municipalities tend to have a more approving outlook on such solutions in a large number of markets.
For mobile operators, the need to densify and place equipment as close to end-users as possible comes at a significant cost. The tri-sector antenna solution, however, is cost-effective in terms of capital expenditure (which is reduced due to a physically smaller structure) and long-term operational expenditure (which is reduced due to smaller site rental fees).
The above, combined with the aforementioned faster zoning process and higher rate of approval, improves time to revenue recovery – rendering the tri-sector antenna a potent solution for in-fill coverage and capacity in an era of massive network densification.